Call for Posters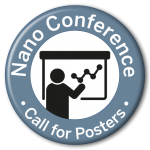 As the first "Call for Posters" was a huge success, the NRW Nano Conference of course continues the "Call for Posters" to give opportunity to share ideas, knowledge, research results and products with the nano community during the Poster Exhibition. The application is open now and will close on 28th June 2020.

Young Academics are entitled to win the Best Poster Award.
The Deadline for the "Call for Posters" is the 28th June 2020!
All submissions to the Call for Posters will be evaluated and the authors will be informed about the results! Thank you for participating in the Call for Posters.

Format specifications for posters:
DIN A0, portrait format

Do you have questions or need more information about this topic?
Feel free to contact: Sybille Niemeier